Junior Sailing Camp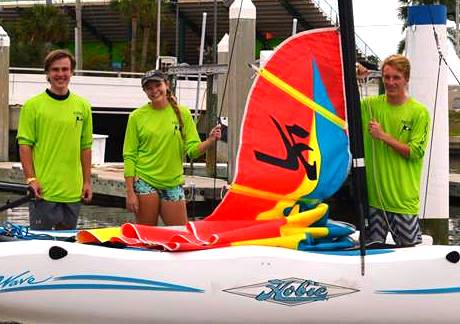 Halifax River Yacht Club
Junior Sailing Camp - Summer Sessions
2023 Registration is Open
Click here for registration packet.
Boys & Girls Ages 9 - 16 ~ No experience required.
6 one-week sessions available ~ Mon - Fri, 9 - 3:30
June 12, June 19, June 26, July 10, July 17, July 24
Open to both HRYC members and nonmembers.
Click here for basic information and guidelines.
Our Junior Sailing Program is not your typical day camp -
we're dedicated to teaching the love of sailing.
Students get hands-on boating experience and learn boating safety & rules while having fun on the water. They have access to the pool and, during inclement weather, alternate learning games will be enjoyed. Lunch, snack and beverages are provided by HRYC. Each junior sailor is required to pass a swimming test prior to being allowed out on the water. The swim test includes treading water in the deep end of the pool while putting on their life vest, swimming the length of the pool and back, then taking the life vest off.
If you have any questions, please contact Karen at juniorsailing@hryc.com
We're looking forward to another great summer!